Sexy Neighbors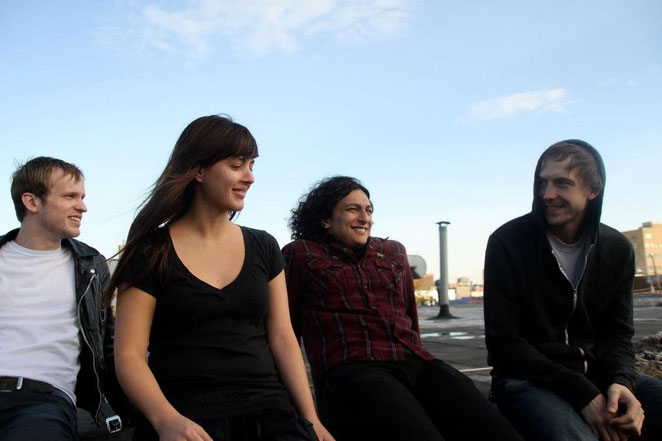 Felix Gottdiener, Margie White, Chen Young-Loc and Nima Jahromi are the members of this Brooklyn-based garage rock band, Sexy Neighbors. With influences from Stones to Architecture in Helsinki, the band has a particular own sound that they describe as a modern update of classic garage rock. Their first studio album, Sexy Neighbors, released in May 2010 with King's Highway Records.
Band links:
Band Members
Felix Gottdiener - Vocals, Guitar
Margie White - Vocals, Keys
Chen Young-Loc - Bass
Nima Jahromi - Drums
Influences
Architecture in Helsinki, The Stooges, STS9, Modest Mouse, Q and Not U.
Biography
It's 1984. Venice Beach, California. Ruben has hit what you might call a low point. He's tired of living out of his old purple van.  He's tired of washing up at the public showers on the beach, and using a litter box as a bathroom. See, he's got dreams. He wants to get the old band back together and rock out. Just like high school. Maybe this time they'll finally record an album...or at least play some shows.

Flash forward to 2009. A group of of Brooklyn-based bookworms, stockbrokers, and just plain Joes get together to play cool jams. Two of them (Andy and Nima) get recruited by another (Felix) to play some of the new songs he's got kicking around. Songs that apply the aesthetic of the 90's rave culture with good old fashioned rock and roll.  With the addition of Margie White on keyboard the songs start to take on a psychedelic flavor all their own.
With the release of their new album, "Sexy Neighbors", on King's Highway Records, they are poised to leave a permanent dent in the global music scene and entertain audiences from Honduras to Hong Kong.
"Sexy Neighbors", Full Length CD, released on King's Highway Records May 2010 is available here.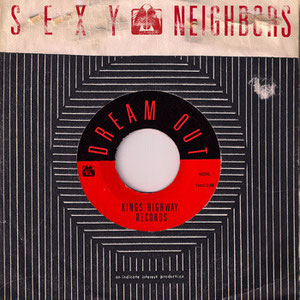 Interview with Sexy Neighbors
1. How did the band begin?

Felix: I've been working on songs such as the one on our full-length since 2007.  My main idea was to create danceable, stripped down rock music.  I was really influenced by the sound and vibe of 60's garage as well as the trance-inducing abilities of electronic music.  Basically I wanted to incorporate the essential elements of electronic music (melodic simplicity, repetition, a focus on rhythm) within the context of a rock song and instrumentation.  I went through a few different lineups until the current one came together about a year ago.  Since then we've done an album and played lots of shows around the New York area.

2. How would you define the sound of the band?

Felix: I would say our sound is a modern update of classic garage rock.  We are influenced by bands like the Stones and the Stooges but we also have a lot of more modern influences and I think that comes through.  The compositional inventiveness of indie rock is a big component.  A lot of the songs are built around the drumbeat like a hiphop or house song.  Then you have Chen and Margie, who really bring in a psychedelic angle to the songs.  So it's a wide-ranging sound but I like to think we stay true to the spirit of rock and roll and not make things too complicated.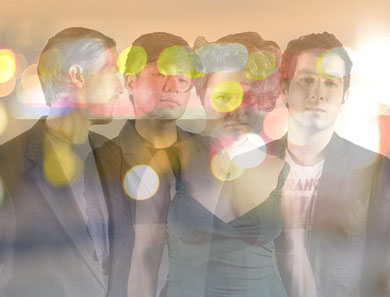 3. Talk us about your last work.

Felix: Our last album, "Sexy Neighbors", was recorded last October.  We recorded the whole thing in four days.  Part of that was due to budgetary constraints, not having a label and having to pay for everything ourselves.  On the other hand, we really wanted to make a record that had a 60's feel.  Back then you were working with tape so you couldn't record things a million times and I think bands would just give it all on one take.  So we recorded to tape, and mostly stuck with first or second takes.  I think we succeeded with the garagy kind of sound.

4. How are your concerts? What can we find there that we wont find on your studio records?

Felix: We really try to make the shows fun above all else.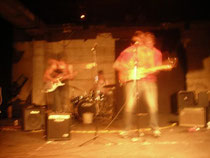 That comes from playing to the audience instead of ourselves.  There are a bunch of songs that we play live that aren't on the album.  Some of them will eventually make it to our next one.  Anyway I think of us as primarily a live band, I think our element is playing shows.

5. What do you think about the music industry and what do you think is your place within it?

Felix: The music industry right now seems to be about niches, there are all these bands that are somewhat well-known but appeal to some cross-section of the listening public.  On the other hand, a band can become relatively well-known in a short period of time through mp3's being spread via blogs.  I would like us to have a big enough audience so that we can tour most of the year and have people coming out to our shows.  That is success, if you can make it by touring.  The more we play live the better.
All submmited material Copyright Sexy Neighbors