Estereotypo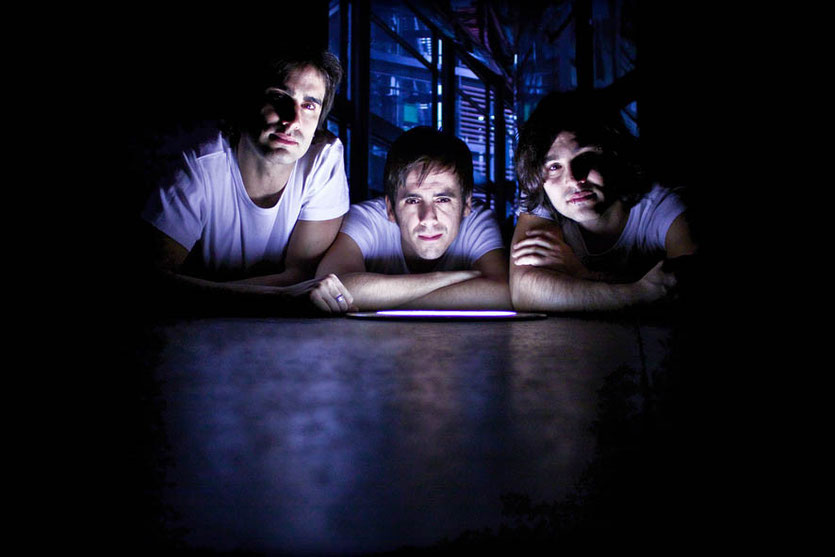 Estereotypo is a indie rock band from Santander (Spain). With influences from The Faint to Muse, they have released a impeccable  album this year, Love Your City (Astro Música 2010). Enjoy the band!
David Van Bylen, Sergio Madrazo, Fran Fernández.
The Faint, Delorean, Franz Ferdinand, The Killers, Muse.
Estereotypo is a fresh new spanish band which has the peculiar ability of turning each one of its live shows into an actual party. It's recipe: highly addictive dance-rock.

The band was formed at the end of 2006 by three people who, armed with both classical rock instruments and modern synthesizers and computers, got together to develop a shiny combination of biting guitar riffs, powerful rhythm patterns, catchy vocal melodies and smart electronic arrangements which gave expression to their concept of dance-rock music for having fun and feeling high.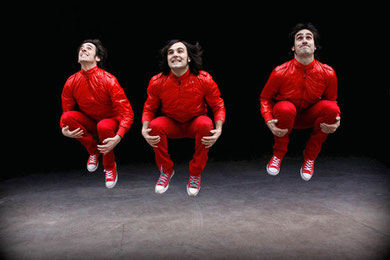 Since then, they growth a promising career based in these two axioms: do-it-yourself and play live. By self-producing their own demos and albums, and promoting themselves through internet social networks, Estereotypo got thousands of people attending their more than a hundred gigs all over Spain, many of them at important venues, festivals and contests (Sonorama, Donostikluba, Razzmatazz, La Riviera, Tremendo Pop, Villa de Bilbao, ...).

Estereotypo's succesful first demo (which was chosen Demo of the year 2007 in Cantabria, by Mondosonoro music magazine), together with the buzz created by an increasing army of fans and the spreading word of their spectacular live shows, lead to the publication of its first album, "Join the Electro Funky Party!", with the renowned independent label Astro Música, in the beginning of 2009.

Hardly a year later, the release of Estereotypo's second album, "Love your city" (Astro Música, 2010), means the consolidation of the band, proving that second parts sometimes may be better. This new record, mastered by Mike Marsh (Chemical Brothers, Basement Jaxx, Phoenix,...) at The Exchange Mastering Studios in London, collects eleven new songs which sound as powerful and danceable as played live, and will surely take Estereotypo to the next level.
Studio Albums:
Love Your City (Astro Música, 2010)
Enjoy The Funky Electro Party (Astro Música, 2009)
Interview with Name of the Band

1. How did the band begin?
We are three people who met in Santander about four years ago. We all loved the concept of making music to play live and make people move as it was actually a club party so, from the very start we had a clear idea of what we wanted to be as a band.
2. How would you define the sound of the band? 
A powerful and prduced sound, half way between pop, rock and dance electronic music.
3. Talk us about your last work.
Our latest album is called "Love your city" because we really loved the nights we spent in your city when we were touring. It was at that time when we were actually composing the 11 songs of this album, and that's why they are so mockingly oriented to be enjoyed live, they are catchy and danceable, and don't give you a break in more than 40 minutes.

Though there is some eclecticism in the songs, all of them have as a common denominator a positive energy aura for making the listener feel high and a rhythmic base your feet will not able to resist.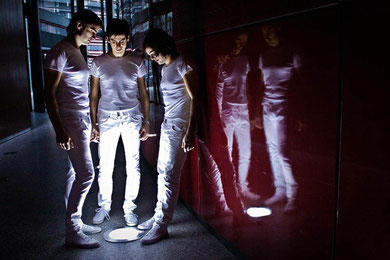 4. How are your concerts? What can we find there that we wont find on your studio records?
Our concerts are (for us) a unique opportunity to get in touch with people, to transmit our vibrations, create an appropiate sounding and visual atmosphere for the people to enjoy Estereotypo songs as ever, sing along, jump, shout, dance, and maybe making this moment become one of the most cheerful they have ever lived.
 5. What do you think about the music industry and what do you think is your place within it?
I think that, whatever pesimist say about it, the music scene is going through a wonderful moment that someday will be rememberd as something really big. There is more music than ever! Internet has brought huge chances for any artist talent not to be condemned to obscurity. Not to say it speeds up any broadcasting, promotion or management issues. Besides, the enormous technology progress has brought to these talents the chance of recording and producing their own records at a very low cost.

OK, is still complicated to stand out between so many offer, and people is overloaded with so many bands and information, and there is still more artists than venues to play live, but it's always been this way.

What is our place in the music scene? We are a band that has looked at the bright side of the moment and has tried to take advantatge of it. The hardest part starts now, standing out from all the rest, but we are here to fight :)
Listen to Name of the Band Music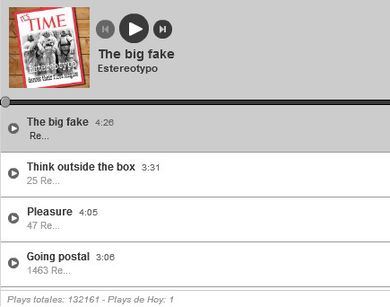 Recommended track: Going Postal (2010)
Estereotypo - The Big Fake
December 25th  2010: El Chantre Festival (La Fábrica de Tornillos, Miranda de Ebro – Burgos)
All submmited material Copyright Estereotypo